Plant-based proteins can be found in many food and beverage applications, such as: bakery wares, meat or fish products, ready-to-serve dishes, sauces, dietetic products, fresh deli products etc. They are highly versatile, they provide a number of different functionalities in food systems, and they are also very nutritious.
Beneficial aspects of use of plant-based proteins
As mentioned above, plant-based proteins have multiple and varied beneficial functionalities, and as concentrated sources of protein their addition leads to improved:
Texture: for example, water retention/absorption capacity, gel formation, emulsification, anti-foaming etc.
Palatability and mouth feel: for example pleasant flavour profile and smooth texture.
Nutritional composition: improvement of protein to fat (P/L) ratio, supply of beneficial amino acids, complementary to animal protein.
Sustainability: safety of supply and increased food security.
Moreover, plant-based proteins have acceptability and wide use in vegetarian and vegan products, according to the relevant labelling schemes.
Table: Typical nutritional composition (%) of agricultural raw materials used for plant-based proteins. Source: McCance and Widdowson (UK FSA)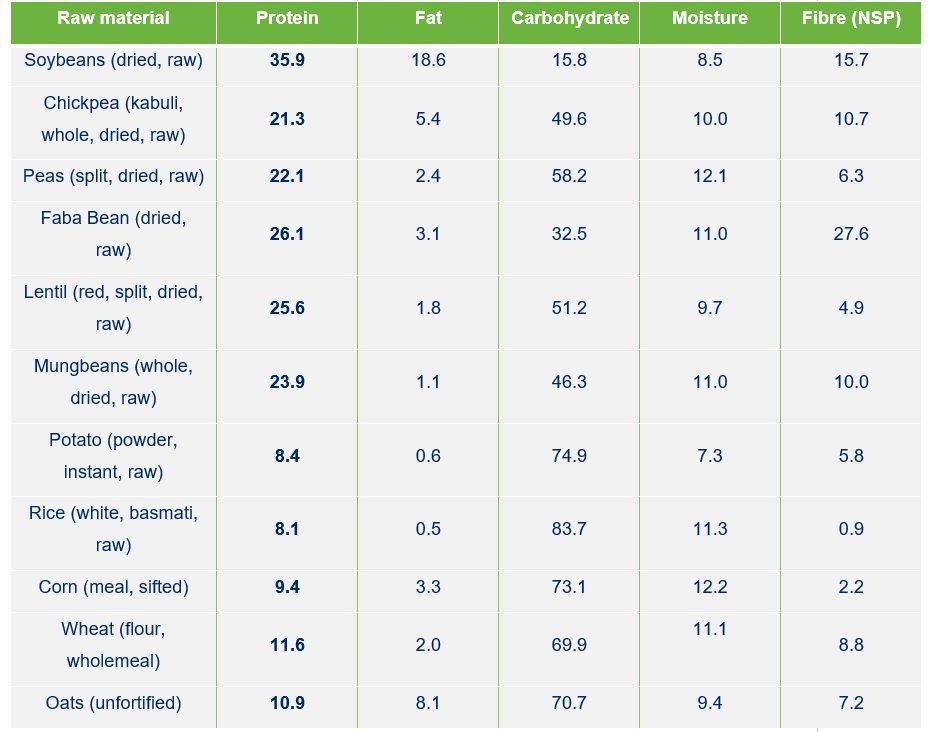 Due to the different properties of each plant-based protein, they can be combined to achieve greater qualitative and nutritional performance.
The production of plant-based proteins also presents a positive environmental outcome compared to some animal production. Main impacts per kg of protein produced are:
Reductions in cultivated area
Lower energy requirements
Less water needed
Reduced greenhouse gas emissions.
Furthermore, soy and pulse (lupin, faba beans, peas) roots fix nitrogen so their cultivation can enrich the soil, allowing limited nitrogen inputs not only for their own cultivation but also for subsequent crop plantings. They can be used in crop rotation, for instance before wheat cultivation: the beneficial impact on the overall sustainability of crops as a result, can be significant.